Young People in Custody
Young People in Custody
Stories and artwork from our youngest entrants
Young people make up 13% of our entrants, from secure children's homes, secure training centres, young offender institutions, secure hospital units and adult prisons.
Through an extended programme of targeted visits, publicity, and art and education staff networking, we aim to support more young people in custody, using art as a tool to increase well-being, engagement with education and personal development.
John, Daniel and Cathy's stories are just a glimpse into the reality of life in custody for young people in the UK. They all show that creativity can offer a way out, transforming the lives of people who may never have had access to the arts before.
Read about their inspirational journeys, and have a look at the fantastic and diverse range of artwork by young entrants to the Koestler Awards in the gallery below.
---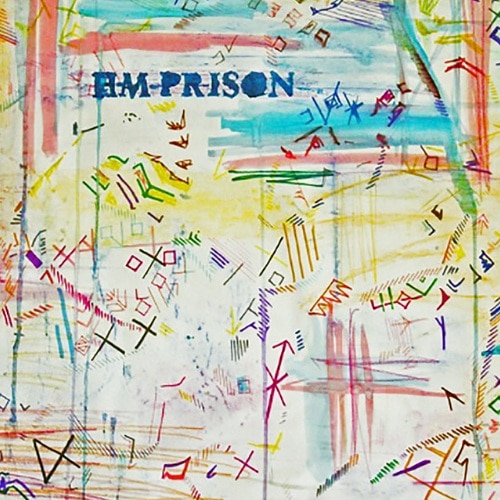 John's Story
Koestler helped me make the journey from a young offender institution to the Venice Biennale.
I first came across Koestler ten years ago while awaiting sentencing in Feltham Young Offenders Institution.
show more
I got into art through graffiti. I always loved art but no-one in my family is artistic at all, and growing up it was kind of alien. I couldn't say, 'I'm just going to pop to the Tate Modern', people just wouldn't have it. You could paint graffiti though, that was acceptable, and everybody was MCing because Grime was just forming.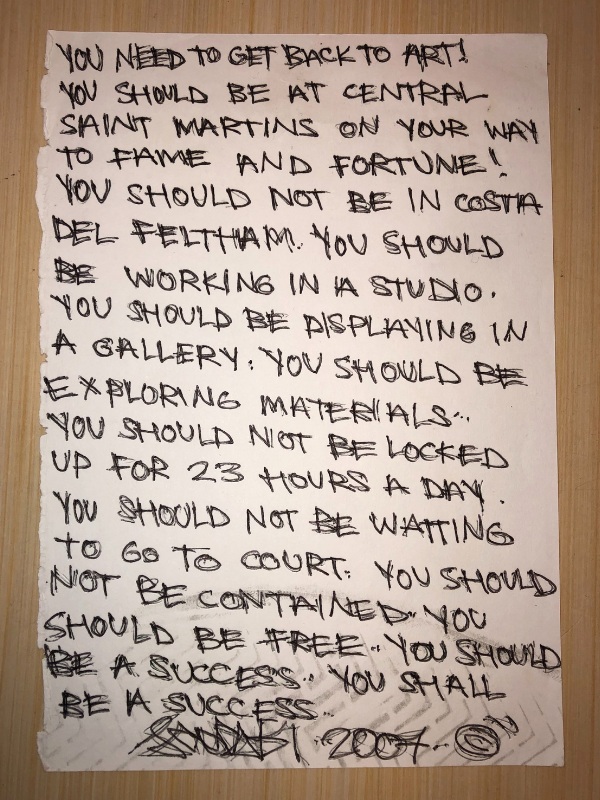 When I first went to prison I was angry and messed up. I did a bit of art therapy and found that helped. I remember being in my cell the first time I wrote something like an actual poem. It was for my sanity and it was a list of things that I shouldn't be, or shouldn't be happening, and then a list of things that should be happening. Like, 'you shouldn't be awaiting sentencing, you shouldn't be banged up for 23 hours a day, you shouldn't be in Costa del Feltham'. And then it said, 'you should be in your Central St Martins studio, you should be making artwork, you should be on your way to success'.
I signed and dated it and then, five years later, when I was in my Central St Martins' studio, I found that letter and there I was!
The Koestler Awards helped me kickstart that journey. I submitted a poem and won a Commended Award. Having someone outside redeem your talents is crucial for artistic growth in such hopeless conditions.
I was encouraged to apply to a fine art course at Kensington & Chelsea College. The prison gave me leave to go to the interview, and once accepted I went each day to college and returned each evening to my prison cell. My final piece was an installation which included all the letters I'd written to my mum while inside.
After release I was accepted onto the Koestler mentoring scheme, and paired with an inspirational character that convinced me that galleries and the like WERE for me. When you come out of prison you are sure everybody knows it, like there's a sign above your head. Going into environments that are typically reserved for the middle and upper classes was a daunting prospect. She helped me dissolve that idea and was an all-round great influence and source of support.
I started my BA at Central St Martins a few months after I got out of jail. It was quite an experience having just spent three years in an environment all about oppression, to now be in one all about expression. A lot of other students had never lived away from home and I'd just done three years in prison. I loved it, some other people found it quite intense but I was like, come on this is nothing!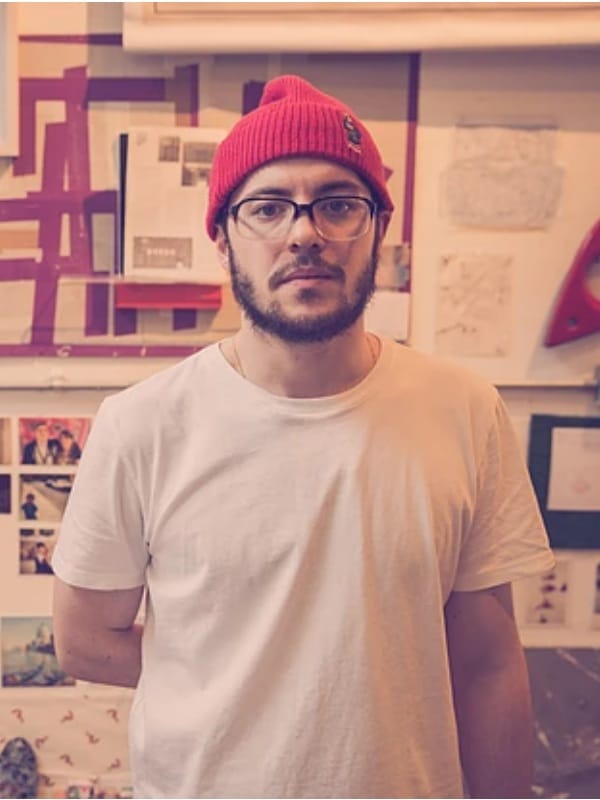 I'd just smashed my degree show and the very next day I got the phone call from Koestler saying I'd got a job there as an arts worker, and then they said, 'and do you want to come to the Venice Biennale with Jeremy Deller'? Jeremy Deller was my favourite artist, he still is. I thought someone was pulling a really cruel joke on me but it turns out they weren't!
Venice is a whole other story.
Working at Koestler was amazing. To be invited back was truly humbling. To hand out awards where I was once an awardee was elating. The art work I was privileged to see was constantly surprising, with feedback key to the process. When I looked at the art I wouldn't see an image, I would see healing through art. Something I'm still doing today.
Art's the closest thing to magic for me. I really like how it can heal and how it can make me feel, because I'm not happy if I'm not making art. It helps people address root issues and uncover the archaeology of their past behaviours that got them in to trouble. We all know this.
Thank you Koestler. You have had such a profound effect on my life, and to look at the journey from prison cell to now has helped me realise just how much you can achieve with care and guidance.
show less
---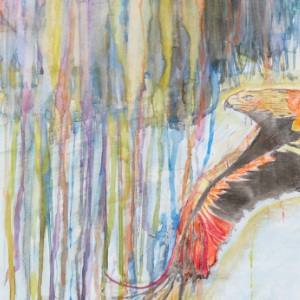 Daniel's Story
Being mentored by Koestler Arts helped me turn my life around, and now I'm about to start a PhD.
I turned 18 in a small, dirty prison cell. I'd already been in prison for a year, and looking back I realised how much that year had changed me.
show more
I wasn't that violent before I went into prison, I'd never really been in any fights. When I went to jail it all changed. You either get bullied or bully, there's no in-between. It really messes with your psyche, being locked up like that. I still feel the effects of prison. You're always looking over your shoulder, always ready to pounce.
Things were going really badly just before I got arrested, things were getting serious. I didn't think I'd live to 25. I didn't know about university. My parents didn't educate me about that because they never went, so all I knew was drug dealing. If I hadn't gone to prison I'd be dead, I reckon.
Koestler gave me that first opportunity to express myself. I was so bad at school, and I think I found art as a medium for communication.
I applied to the Koestler Awards before I left prison, at the same time I applied to college. I made sure I had everything set in place and Koestler was part of that environment. They helped me so much. I won a Gold Award and the following year I helped curate the exhibition.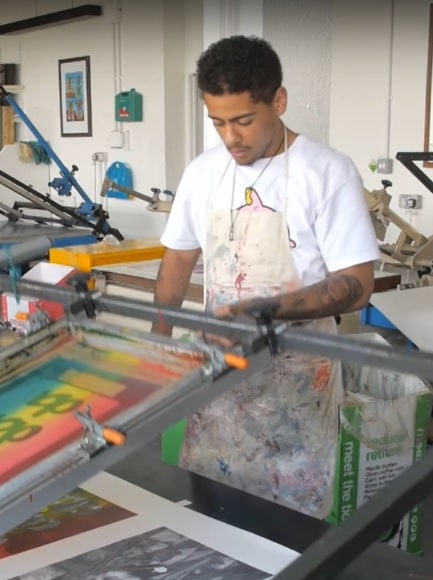 The Koestler Awards give you self-value. To be awarded something so prestigious that's been going on for years, with exhibitions at Southbank centre… a lot of us have never been given awards for stuff like that. It motivates you to go out there and get more. For me personally, it pushed me to say, 'I want to win something outside prison'. Koestler is amazing at building up your confidence, giving you a platform. I can still put on my CV that I won Koestler Awards.
There's a lot of guys like me who don't want to be living that lifestyle but it's all we know. One of the most important things is taking that leap, contacting people like Koestler and asking them for help.
I got onto the Koestler Arts mentoring programme for recently released prisoners, and my mentor was amazing, the first positive role model I'd ever had. Talking to someone about my creativity and how I felt about it was one of the best things ever.
For a lot of prisoners, where we come from we can't sit and talk about art with anyone, so just having someone to talk with about culture, art and things that are going on in your life is so valuable.
People really don't understand how closed off the mind is when you're from that sort of walk of life. As it's just not the norm for you to study, go to work and get your money, it's the norm to pick up drugs and sell them. I don't think people realise that your environment creates you.
Telling someone that went to prison for a sawn-off shotgun that he's going to go to the Barbican with some stranger and talk about art, I mean it's absurd, it is absolutely absurd. Not any more, I love to do that. I'm a member of the Barbican now.
I'm now finishing my Masters dissertation on discrimination and diversity at the University of the Arts London. I've never met anybody like myself, no-one who's been to prison or working class. You find yourself in a no-man's land – educating yourself more than in your old life but at the same time you're not fully accepted into the world you're educating yourself into.
I'm going to do a PhD straight after, and am working to make universities more accessible for people with criminal records. I've never met a black teacher or an ex-con teacher – you have to stop complaining about it and go and make the change.
show less
---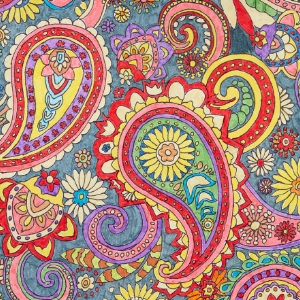 Cathy's story
My son has been able to move away from his crime and shape a new identity as a writer. Koestler Arts is a big part of that.
My son's totally different from the boy he was at 15. He's grown up into an adult in prison, but he was a child then. And it's just such a common, sad story.
show more
He had been excluded from school and that has had such a lasting impact on his life. That was just before he got heavily involved in gangs.
He was so young. He was 15 when he committed the crime that he was sent down for, and 18 when he was sentenced to life in prison. You don't think it's going to be your own child who gets mixed up in gang culture, especially to that extent. Nothing will really prepare you for your child going to prison.
Later, when he was in prison, he helped run a group on the wing for young black men to talk about their experiences. One of the first things they asked was, 'Who grew up with a father?' And no-one put up their hand. He didn't – his father wasn't in contact much until he got shot when he was 14, then he did come and see him. That had a big impact on him, seeking a father figure when he was a vulnerable young teenager. That's one of the key tactics that groomers use to get kids into the gang – they become their family.
Nothing will prepare you for your child going to prison. The hardest thing is that they have to call you. You can't ever call them to say hi or how are you. You get used to some things but that you never quite get used to.
Retribution or rehabilitation – which way do you go? Anything that can keep him moving away from the mentality of retribution, moving forward to become a new person, is such a good thing and I think Koestler Arts has done that.
The Koestler Awards have had a huge impact in giving him something to work towards. It has motivated him to create. Without that structure and acknowledgement he might have written a few poems but they might not have gone anywhere. It's helped him shape a new identity as a writer.
The awards give you an annual cycle, so you think, 'Oh, the deadline's coming up, have I got my entry ready?' There would be such a gap if they didn't exist, in terms of motivating people.
It's been a real journey for him. He won a Bronze Award, then a Gold Award in 2017 for a poem which was published in the collection Benjamin Zephaniah put together. To get the Platinum last year was just amazing. I cried, when he sent it through the post to me and I read the poems. I sat down and cried.
The first time the Koestler exhibition curators picked out his poem and put it on the wall was massive. There's a photo of me and my sister, with my children and her children, all there underneath his words at Southbank Centre.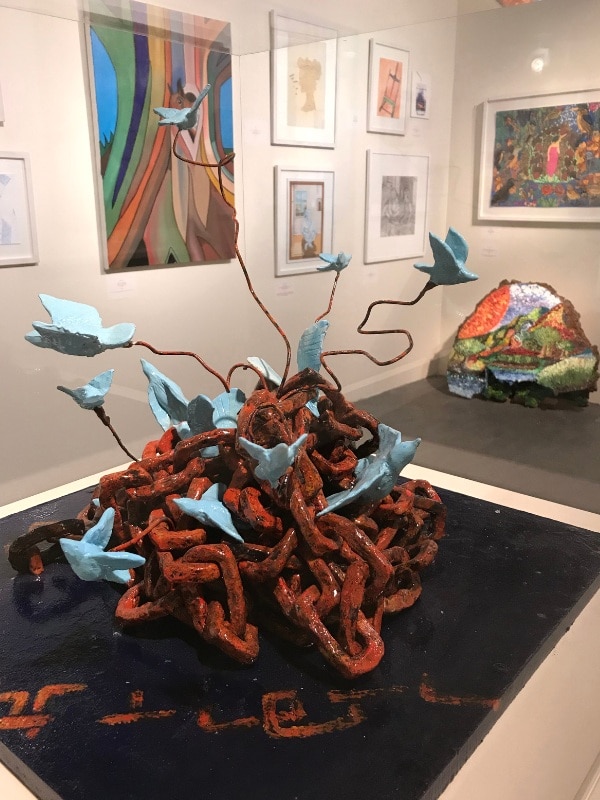 I wish sometimes when I see the exhibition that he could see it. It's fantastic that there are ex-prisoners showing people around. They're on the outside now, looking at the artwork. It makes me think, one day that will be my son.
When I read out his poetry at Southbank Centre last year for the Voices from Prison event it was like him getting a degree and a masters, it was such an achievement. He's worked very hard to reach the standard where someone will pick up his writing and think, that's the best of the best.
The Koestler Awards have helped him so much with that. He's doing an English literature degree now at the Open University, going into his third year. He's just submitted an essay about Othello which got an 88 out of 100. He's consistently been getting a first and may go on to do a Masters.
Art makes people feel. There's something deep within us which is touched by creativity. For me, it's fundamentally about the possibility of rehabilitation, and someone like my son is ideal for that because he's so young.
show less
Online gallery: artwork by young people