Thomas's Story
I used to think that poetry wasn't for me, but entering my writing into the Koestler Awards gave me something to live for.
I hated poetry at school. It may well have spoken volumes to many people but I wasn't one of them. I had filed it under Tedium Majora.
My offending behaviour stemmed from mental health and long supressed self-confidence issues that for a variety of reasons I was too embarrassed to address. Prior to my incarceration I spent four months in a mental health institute where I began to write poetry as a cathartic process. I could express my emotions and feelings on paper far more eloquently than I was able to do face to face.
When my prison journey began, I continued to write poems. It helped me to deal with where I was and the reasons why. It helped me to communicate with my family and friends. It even became a source of entertainment for me to reflect on some of the other people I encountered.
With immense trepidation I showed a couple of them to my cell mate, and was really taken by the positivity of his reaction. I began to show them to more of my peer group
Buoyed by their reactions, yet still very apprehensive, I showed some of them to the education officer on the wing. She immediately suggested I enter them into the Koestler Awards. Cue blank expression on my face. She then explained who Koestler Arts are and what they do.
The net result was that one of my poems, Dirty Laundry, not only won an award but was also selected for display at the 2016 'We Are All Human' exhibition at London's Southbank Centre with Benjamin Zephaniah at the helm. Oh, and was also included in the first ever Koestler poetry anthology, Koestler Voices: New Poetry from Prisons Vol. 1. This was a huge boost for my self-confidence, which has gone beyond rock bottom and had presided over numerous suicide attempts.
Koestler Arts gave me something to live for.
My father came to the exhibition and saw a visitor copying out my poem into a card for his father who was immured at the time. He was able to say with great pride, 'My son wrote that.' My dad died last summer, but even at my lowest ebb, he still demonstrated faith and pride in me. It fills me with pride that I was able to touch someone else emotionally. But it wasn't just that visitor whom I had affected. A few days before Christmas 2016, I received a total of 43 feedback cards from people whom I had never met, nor ever would do so, but were kind enough to take the time to fill out a postcard with their reaction to my creative offering.
Those postcards were a massive contributory factor to me still being alive and writing this piece now. I have kept every one of them.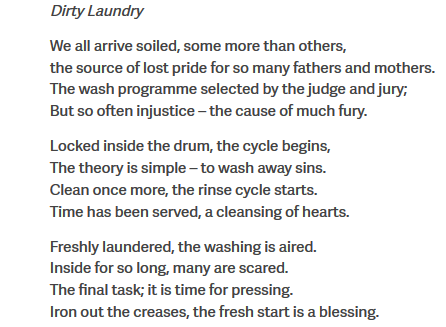 That poem was inspired by watching the washing machines in the prison laundry. After writing the poem, I was awarded a Koestler scholarship and a poetry mentor to help me develop my art. I was presented with my award at the British Library, attended by my Dad, one of my brothers and one of my friends. It was very humbling to be presented with the prize at such a prestigious venue, it made me feel ten feet tall (and for someone who is 5' 5" that is a big deal!)
I met with my mentor three or four times during my time 'away' and then a further seven or eight times in London. She helped me to consider other forms of poetry and move away from my comfort zone of ABCB rhyme! In addition to attending a poetry book launch, we also discussed other forms of creative writing, including short stories and writing a novel.
Now, I have at least three books planned – at least two of which will be education based and for charity. I just need to select the items to include form the hundreds I have now written and arrange the funding for it.
I continue to receive high praise for my creative work, not just from friends and family but also those who do not know me well but have read some of my poetry.
Recently I attended the 'We Made This' exhibition to support a friend who was unable to attend, and was really touched by the warm welcome I received from the Koestler team who remembered me and took the time to come and greet me.
Once more I felt like a member of society, and was able to encourage other visitors to complete feedback cards for the artists, having given them a little insight as to how great an impact they had for me.
Simply put, from an emotional wellbeing perspective, the impact Koestler Arts has had on my life cannot be overstated.
Your support can help us give more people like Thomas an annual cycle to work towards and affirming feedback on their work.