Jason's Story
I didn't think I'd win anything, but the Koestler Awards lit a spark in me
When a teacher in a prison education department suggested I enter the Koestler Awards, I entered with the mind-set of 'people like me never win anything.' Being dyslexic and raised by a single parent below the margin, I had no confidence in my ability to write anything. However, I entered and later received both a commendation certificate and cheque. Ambivalently, I half believed I was 'just lucky', but inside a spark had been ignited.
The following year, when I achieved another award, that initial spark was fanned into an inferno and I began taking writing seriously. I borrowed the Writers' Year Book from the prison library and set about sending different forms of writing to organisations in the post. From then on, writing inside prison became both a coping mechanism and a way of moving forward.
While learning to grasp nuances of the craft of writing, my understanding of written English also grew and enabled me to gain diplomas in business, counselling, mechanics and IT, among other qualifications and skills which I utilise today.
Each time I entered prison I used the time to write. In 2010, after writing a novel while mentoring in HMP Birmingham's education department, I won a Platinum Award. Having an extract of my novel included in Koestler's Arrow in The Blue exhibition at Birmingham Museum and Art Gallery well and truly stoked my fire!
In 2013, when I received another Platinum for my poem To Score, which was read at Southbank Centre, I danced around my prison cell, which I am sure could hardly contain my swelling head.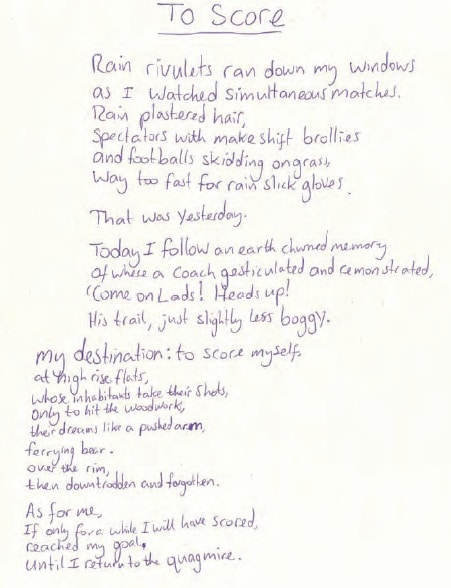 Over the years I grew and used poetry cathartically, as well as writing bespoke poetry for life occasions such as memorials, love poems, weddings and as therapy for others too.
When I was released from prison in 2015 it felt like being birthed out of a dark womb and my voice was set free to tell my story, which began when launching a symposium event at London's National Theatre. It was a great experience, but also a steep learning curve, because at the top of the curve I saw there was much more to learn and I lacked confidence. To gain confidence I had to step beyond my comfort zone, and with each moment beyond myself I have grown.
Since then I have performed at festivals, exhibitions and events, and have learnt that poetry is different forms of expression used to convey what we transpose and define in words from abstract thoughts, feelings and experience.
Poetry has carried me on a journey of knowledge, wisdom, understanding, healing, and growth, and now much of my work is aimed at healing, teaching and nurturing confidence.
After finishing a prison license I started working as a Community Support Worker for the Probation Service, using my experiences to help others move forward and grow in confidence by sharing my journey and demonstrating the power of the arts to spark change. Encouraging the development of self-expression has helped others grow and thrive. In 2018 I registered as self-employed and have since delivered poetry, performance and self-development workshops in schools, colleges, universities and prisons.
Perhaps you can imagine my joy on achieving Platinum and Gold Awards in 2018 and then being invited to read at the London Literature Festival at Southbank Centre for Koestler's Voices from Prison event. Reading my work there allowed me to see how far I have come and appreciate just how valuable the arts can be within people's lives. It also marked firmly closing a door on my past and the beginning of a walk into the future.
Your support can help us reach more people like Jason, lighting a spark that helps them gain confidence and belief in themselves.