Erika's Story
A journey from Award Winner through to mentee and staff member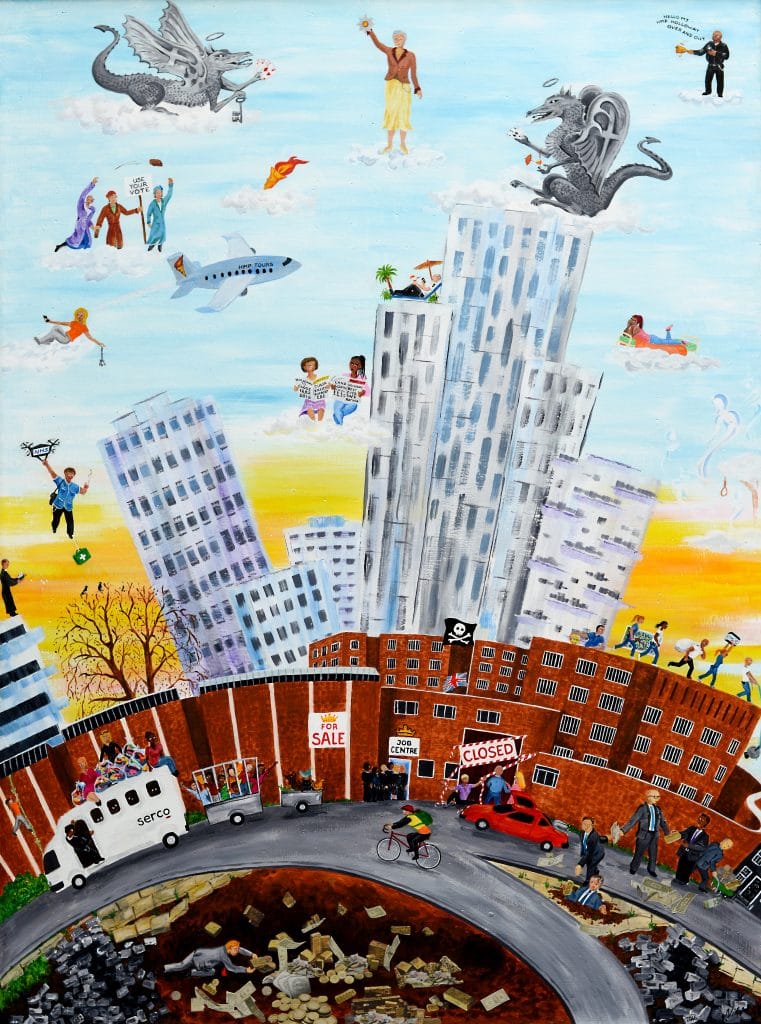 The first year I was in prison in HM Prison Holloway I found out about the Koestler Awards too late to enter them. However, this gave me motivation to produce work for the following year's awards. I spent a long time waiting and scavenging art materials to produce some work and was rewarded with a Gold Award, a Bronze and a First-Time Entrant Award. The fact that I then sold my painting was a great boost to my confidence.
Prison takes more than your freedom away from you. It can affect your decision making process, your confidence and your whole sense of being. The Koestler Awards bring a little bit of purpose to your existence behind bars and connection with the outside world.
I was then fortunate enough to be granted Release on Temporary Licence (ROTL) to work four days a week at the Koestler House. Seeing the amount of entries and the annual process that the entries go through was both inspiring and humbling. The work produced by entrants from all over the country, from the naive to the fine accomplished works, is all representations of the powerful and honestly raw voices of the unseen.
The second year that I entered I got many awards and some of my work was selected to be exhibited in the Koestler Annual Exhibition in London's Southbank Centre. This was a huge honour and I was so proud to have my work seen and appreciated by so many people in such a prestigious venue.
I was also extremely privileged to be accepted onto the Koestler mentoring scheme. Matched with a mentor, I visited some galleries following my release from custody and discussed my own practice with them and how I might utilise my skills in skills in the future in the workplace. This was a great bridge in my effort to rebuild my confidence and seek meaningful work for my future.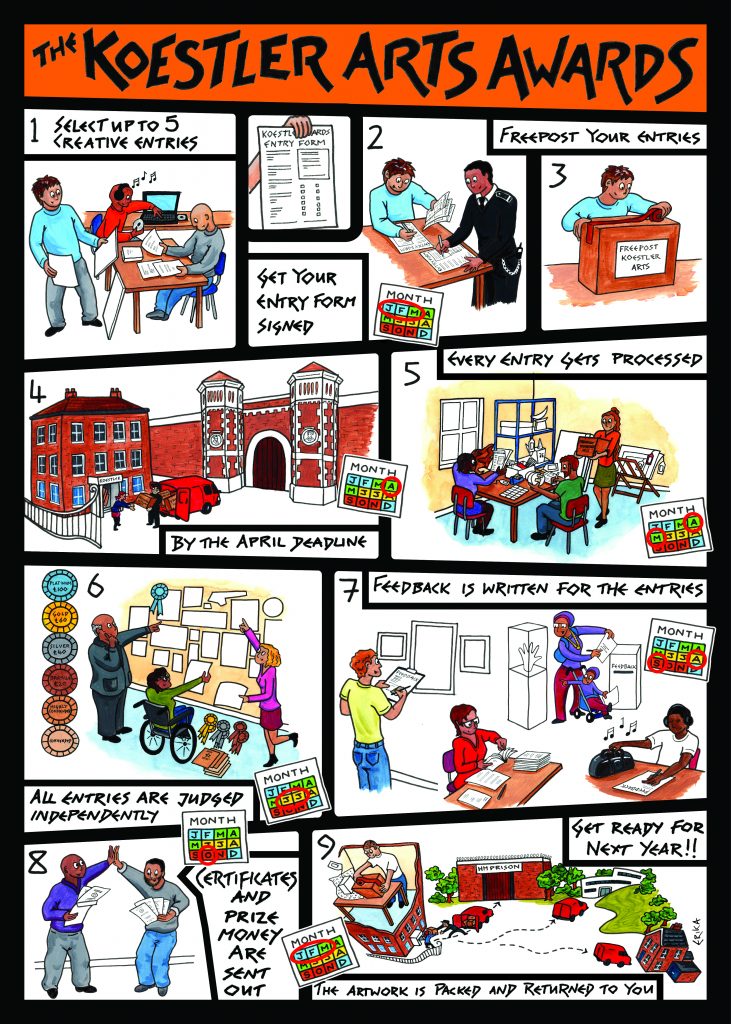 In my third year of entering the awards I again was fortunate enough to have some of my works exhibited in the annual London Exhibition, one of which was my postcards that I had drawn, one every day of my incarceration, to document my story. This exposure of my postcards has resulted in many freelance commissions, including the recent Koestler Awards Story Poster which visually explains the awards process, as well as many opportunities to do event illustrations within the prison establishment for a number of prison charities.
Being able to continue to enter the Koestler Awards whilst on licence is an exciting opportunity to continue my practice and produce some art that is created through the challenges one is faced with when released into the community. It's really inspiring and I am very grateful for the opportunity.
The experience and working practice that I have gained from working with Koestler Arts over these past few years, in all its capacities; Entrant, ROTL Volunteer, Volunteer, freelance and contractual staff member, has been invaluable for my journey from prisoner to a working, contributing member of the community.
It is hard to express how valuable the Koestler Awards are, not just to my journey, but to so many that have put their work through the Awards Scheme.
With your help we can reach more people in secure settings, supporting them to engage in the arts and transform their lives.