Andrew's Story
What becoming a 2018 Exhibition Host has meant to me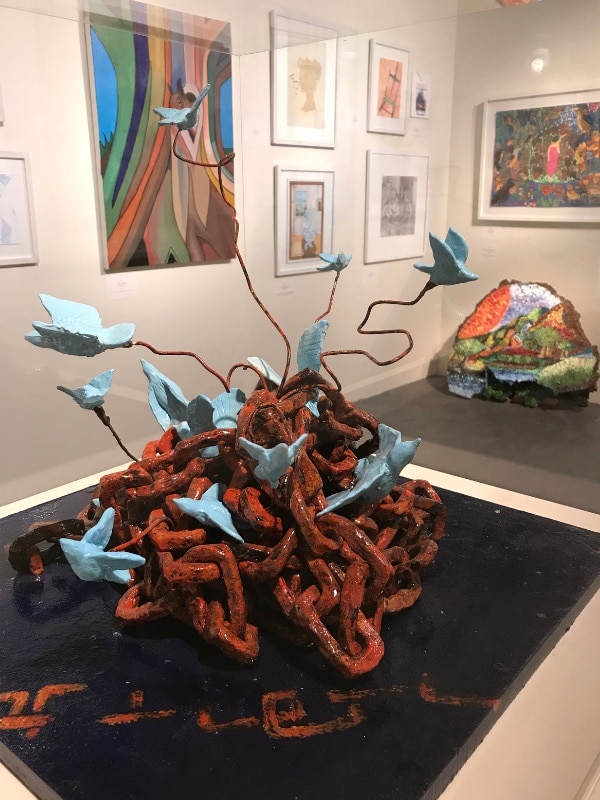 When I was asked to describe what it has meant to have been a host for the 2018 Koestler Exhibition hosted at Southbank Centre, I thought about where I was at the start of the summer before I was hired for the role.
You see, my last job ended in August 2016, where I committed my offence. Since the completion of my trial in April 2017 up to August 2018 I'd applied for around 1,400 jobs, with no success. I couldn't even get a job washing pots and pans in a restaurant.
To say that I was low on confidence and disheartened by this would be an understatement. I thought things would never change.
Then one day, whilst doing my daily search for jobs online, I stumbled across a job to work for Koestler Arts as an arts exhibition host. I'd never heard of Koestler Arts before and didn't have any experience in the arts; it was something I had never considered before. The job application specified that they only wanted to hire ex-offenders for the position and I'd tried applying for everything else and so I thought I might as well give it a go.
I went along to the interview and although I didn't think I was going to get the role I was grateful to actually have an interview and was taken aback by how kindly I was treated. For the first time in a long time, a potential employer looked beyond my past mistakes. I didn't think I'd be hired, but left feeling happy that I'd been given an interview and had an equal chance to get the job.
As promised, a few days later, they got back in touch and by some miracle I was selected to be a host. Finally someone was giving me a job, it felt amazing!
Then it dawned on me, I hadn't worked in two years, I had no experience in this field, and I was going to have speak to the public about artwork in an art gallery of which I was meant to be an expert. To say I was nervous on the first day of training would be an understatement, but my initial trepidation soon subsided due to the warmth shown by everyone at Koestler Arts. I was immediately put at ease.
But still, I had one major problem, I didn't know anything about art!
Fortunately for me and my peers, excellent training was provided. Koestler provided us with a detailed plan on how the training would be delivered and assured us that we would be ready for when the exhibition started. This gave my fellow hosts and me the belief that we might be able to do the role. They took us to art galleries to see how professional hosts worked, and delivered the training at a pace which was manageable and understanding of the fact that this role was new to all of us.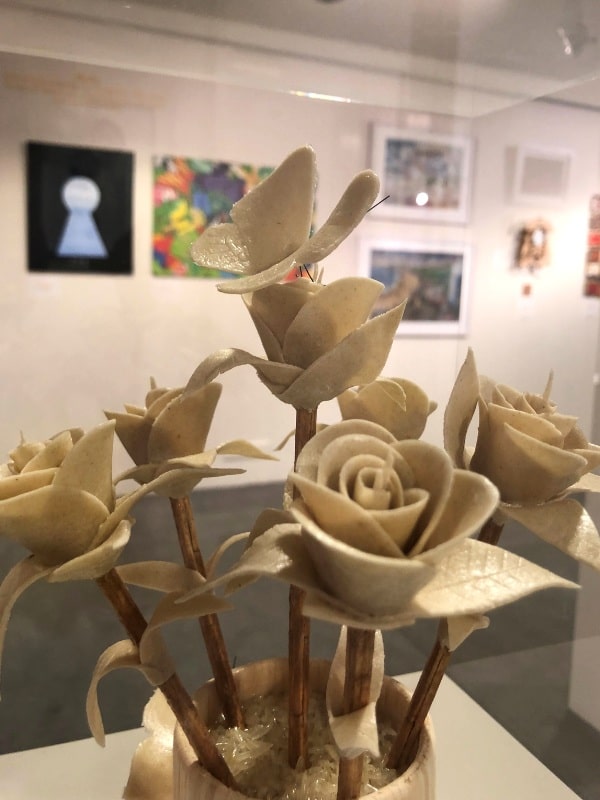 Then they gave us a 'bible' of all the artworks on show. It was an epic piece of work done by the dedicated members of staff at Koestler Arts, and a true testament to all the hard work they had put in before they had hired any of the hosts. Knowing they had put in all this hard work made all the hosts want to work harder and keep up the standards that they had set.
Without the 'bible' I never would have been able to do the role, and I am particularly grateful for all the hard work that went into this, as I know all the other hosts are. It made the job so much easier and the lack of knowledge I had about artwork no longer seemed to matter anymore, as I could now learn about the pieces of work which spoke to me the most, and in turn I could share this with the public. The whole delivery and content of the training was different, in that so often, having been through the criminal justice system, you feel employers and society are setting you up for failure. Koestler Arts was unique in that it set you up for success!
The opening of the exhibition quickly arrived and I was understandably nervous for my first shift, but great care was once again shown by the Koestler team as the first person I spoke to about the art was one of the Trustees, who allowed me to talk about the pieces I was most comfortable discussing and wished me well for the exhibition. It immediately boosted my confidence that I could be good at this.
As the exhibition went on my confidence grew and I developed skills which I had both lost and never had. I was able to speak to the public about the artwork, drawing on my life experiences and those of the artists on show to really make a connection with the public. It was truly moving to be able to make the public have an emotional connection with the artists and their artwork, something two months before I would never have imagined I could possibly have done.
When I look back and think what being a host has meant to me, I think about how much it has boosted my confidence and given me some pride back in myself. I was also fortunate enough that many members of my family and friends came to the exhibition and got to see the effort that I had put in, and finally, it restored some of the faith they had in me which is priceless.
Koestler Arts has two main aims ; for the artists to see themselves as something more than just an offender through artwork, and for the public to view offenders as a person, not just someone who has committed crimes. It aims to humanise offenders. Despite having no artwork in the exhibition, I feel that Koestler also achieved those two aims for me as well. I see myself differently and the public also viewed me differently.
For so long, it felt like my life would not change, that I would never make my family or friends proud of me again, or that wider society would ever give me a second chance. Through working at Koestler Arts this has all changed. I was able to show my family and friends the skills and confidence given to me by working for Koestler Arts, as well as the public enjoying my tours and giving me positive feedback and warm wishes for success in the future.
Most of all, it has given me a second chance. As a result of working for Koestler I was able to get a job and have hope for the future.
I will forever be grateful for the opportunity that it has given me as finally my life is going in the right direction and everyone from Koestler Arts is responsible for that; so, thank you, as it has meant everything to me!
Help us support more people who have been involved with the criminal justice system to turn their lives around.