Groups and Societies
There are lots of ways that your group, society, club or even your group of friends can get involved with Koestler Arts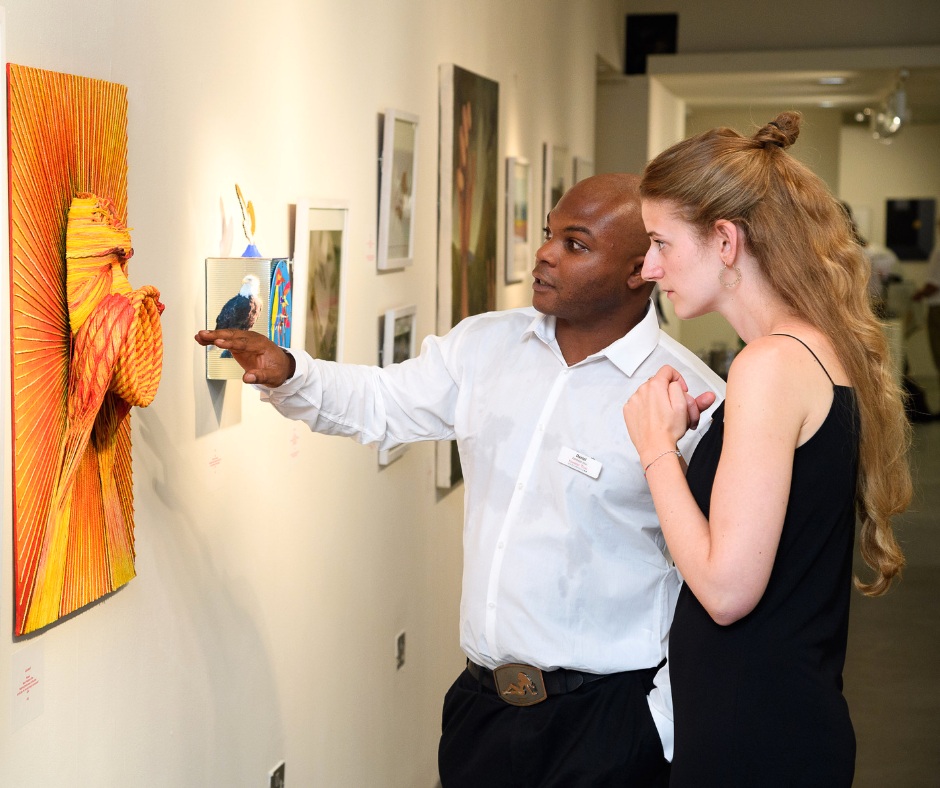 Exhibition Tours
Koestler Arts holds exhibitions and events across the UK each year, showcasing the talent and potential of prisoners and detainees to the public.
We offer free guided tours of our exhibitions, given by curators, our specially trained ex-prisoner exhibition hosts, or by Koestler staff.
> Learn more below.
Feedback Days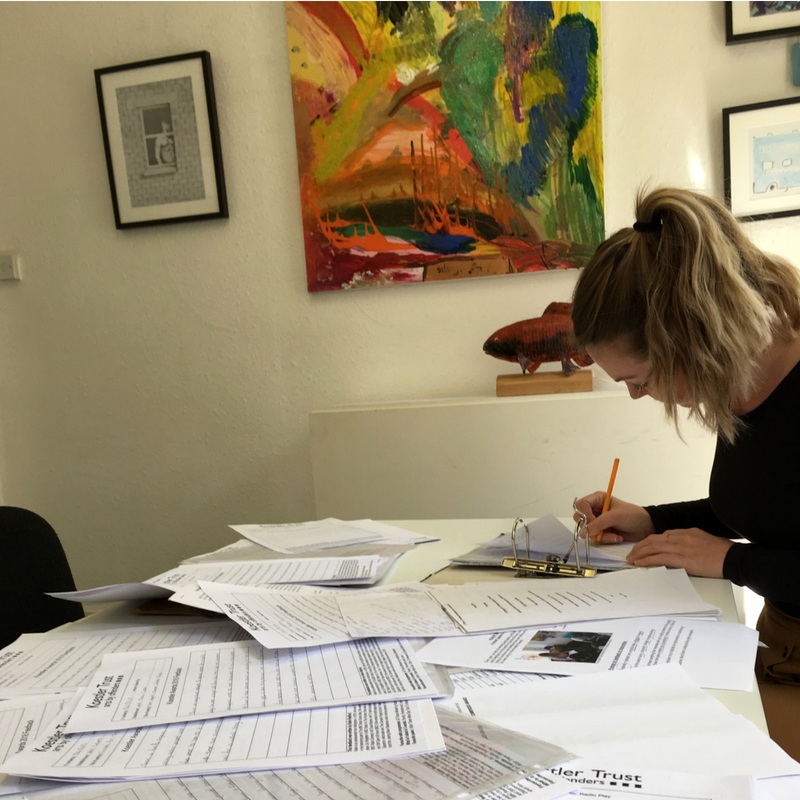 As well as sending participation certificates to all Koestler Awards entrants, we also send written feedback. Entrants tell us the feedback they receive on their work is one of the most valued parts of the process.
The Koestler Awards have given me hope. Each year, Koestler gives me something to work towards and the feedback is something I look forward to for months.
Many individuals volunteer with us to write feedback, but we also welcome groups.
> Learn more below.
Talks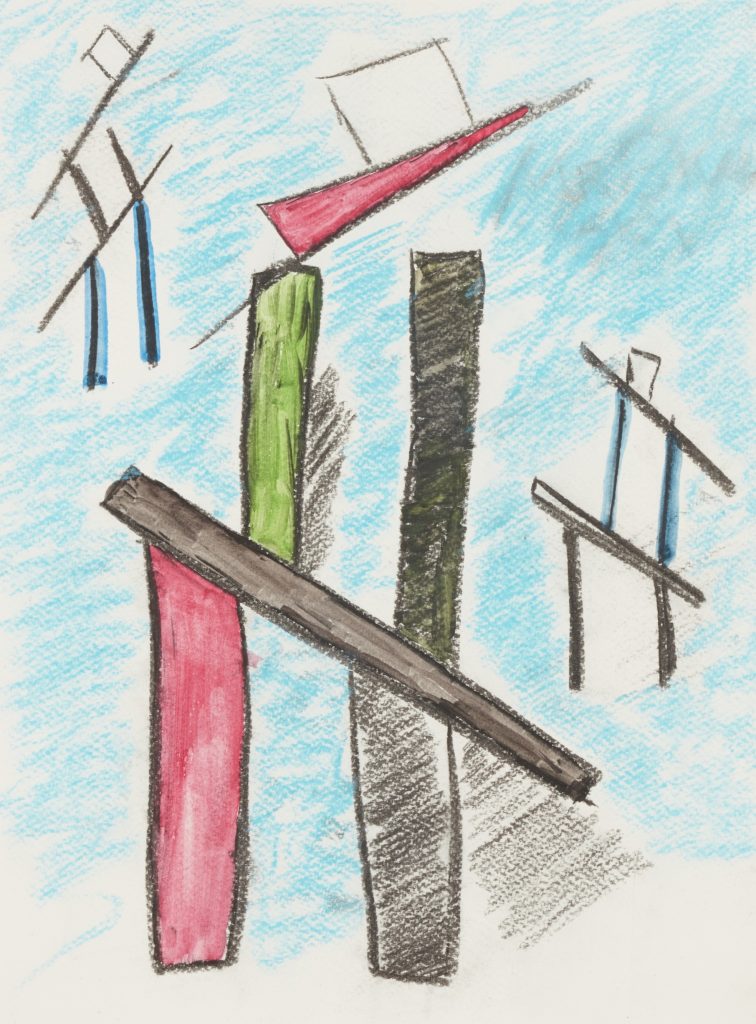 If your group or society has a programme of talks or lectures, a member of Koestler Arts staff would be happy to come and talk to your members about our work. We will talk about the history of the Trust, founded by writer Arthur Koestler in 1962, our work with prisoners, secure patients and detainees, and the challenges involved in making art in secure settings.
Please get in touch with Flora Allen, flora@koestlerarts.org.uk to discuss organising a talk.
Name an Award
Giving a name to a Koestler Award is a great way for groups and societies to support our work. You can specify which artform you would like your award to go to, and nominate a prison or other secure establishment in your local area.
You will receive a copy of your award-winning artwork and invitations to exclusive supporter events and exhibition openings throughout the year. Most of all, you will be helping us continue our work motivating and raising the self-worth of those who need it most.
Learn more about the scheme here.
Learn more about the different ways you can get involved:
Exhibition Tours

Our UK exhibition at Southbank Centre takes place every Autumn, and free tours are given by our ex-prisoner hosts, who are employed by us for the duration of the show. It is also possible to book free private tours of the exhibition for larger groups in advance. Our hosts speak about the history of the charity, the exhibited artwork, and issues related to making art in secure settings.

We also hold regional exhibitions across the UK each year, involving local groups and artists to shape the content. These exhibitions allow more entrants' families to see the artworks, and engage artists' local communities.

[Our host was] very articulate and expressive and spent time to answer questions we had… He described the artworks eloquently but also portrayed his experiences with a sense of humility and gratitude. Both my friend and I are teachers working with some challenging pupils and [our host] helped us to empathise further with them.

A visitor to our 2018 exhibition 'Im Still Here'

In 2019 we will be exhibiting work from the Koestler Awards at Turner Contemporary in Margate (1 March – 6 May) and at Snape Maltings in Suffolk (1 – 31 August 2019). There will be the opportunity to book private group tours.

Feedback Days

Feedback can provide entrants with a real boost in confidence, as well as advice on how to develop their work. With the help of lots and lots of volunteers over the summer months and visitors to our exhibitions, we aim to give written feedback to all our entrants.

If your workplace offers time off each year to volunteer, why not come with your colleagues to the Koestler Arts Centre, and make a real difference to the entrants who receive your comments? Could your group or society organise a day trip to our arts centre to write feedback? The more the merrier! We will give advice on what to write, and can organise your day so that you write about an artform that you feel confident with, whether it's painting, poetry or needlework.

The words of encouragement you've included with my 5 awards (of which I'm very proud) have given me a tremendous lift and for that, in this darkest period of my life, I really cannot thank you enough. I mean that.

Koestler Awards Entrant 2018

Writing feedback is a unique opportunity to see the fascinating and diverse range of artwork entered into the Koestler Awards each year, and to encourage and motivate some of society's most disadvantaged and marginalised individuals. If you're interested, please get in touch with Flora Allen, flora@koestlerarts.org.uk.